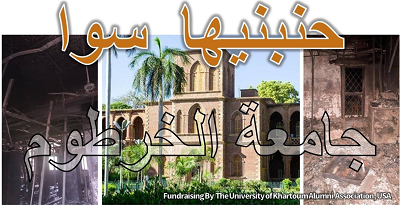 Rebuilding the University of Khartoum
Our Dear People
Earlier this year, the people of Sudan have successfully toppled the country's 30-year dictatorship through one of the most amazing nonviolent revolutions in current history. The dictator, however, didn't go down without a fight or casualties. The University of Khartoum – Sudan's oldest and largest university – suffered destruction because of its proximity to the Army Headquarters, where thousands of Sudanese citizens organized a two-month-long peaceful sit-in that was brutally dispersed by the Janjaweed militias and the former regime's security forces.
The devastation is widespread throughout the university, affecting every study hall and every lab in the main campus, with initial estimates of the damages in the tens of millions of dollars. Donations collected in this campaign will be delivered to the new administration of the University of Khartoum and will be used in repairing damage to the buildings and labs and in buying computers and lab equipment.
Every donation, no matter how small or large, makes a difference. The students of the University of Khartoum and all the people of Sudan truly appreciate your support.
Thank you
To donate, kindly visit our Facebook page: