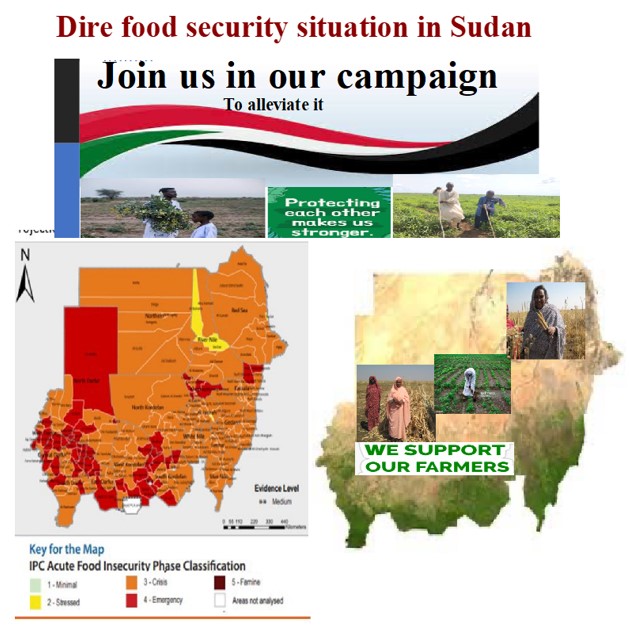 Sudan's Food Security Crisis
Based on information collected from recent reports of the Food and Agriculture Organization in Sudan and the assessment of the World Food Program, 34% of the population (about 15 million people) suffered from food insecurity during the first quarter of 2023.
The war in Sudan created mass displacement, forcing people to flee their homes in search of safety. Since April 15th more than 2.6 million people (523,142 households) have been internally displaced due to the conflict2. The displaced populations often lack resources such as land, tools, and seeds to restart their agricultural activities. Even before the current conflict humanitarian needs across the country reached record levels.
Agriculture is one of the main livelihood activities in Sudan, along with livestock rearing and trading. During times of war, gender dynamics play a significant role in determining vulnerability and access to resources. Women and children are particularly affected by the current food insecurity.
The challenges facing Sudan are many, including pressing humanitarian and food insecurity. Before the war in Sudan, 24 percent of the Sudanese population (11.65 million people) were in IPC Phases 3 and 4 (crisis and emergency, respectively), with an additional 37 percent (17.58 million) in IPC Phase 2 (stressed)3. The recent violence has exasperated the problem, leading to severe shortages of food, water, medicine, and fuel, while the prices of basic items and transport have risen dramatically.
Sudan NextGen is a 501c3 registered nonprofit organization in the US, your donations are 100% tax deductible.
Contact us at team@sudannextgen.com