Esraa Hassan Abdelhafiz Alsaied
UI/UX Designer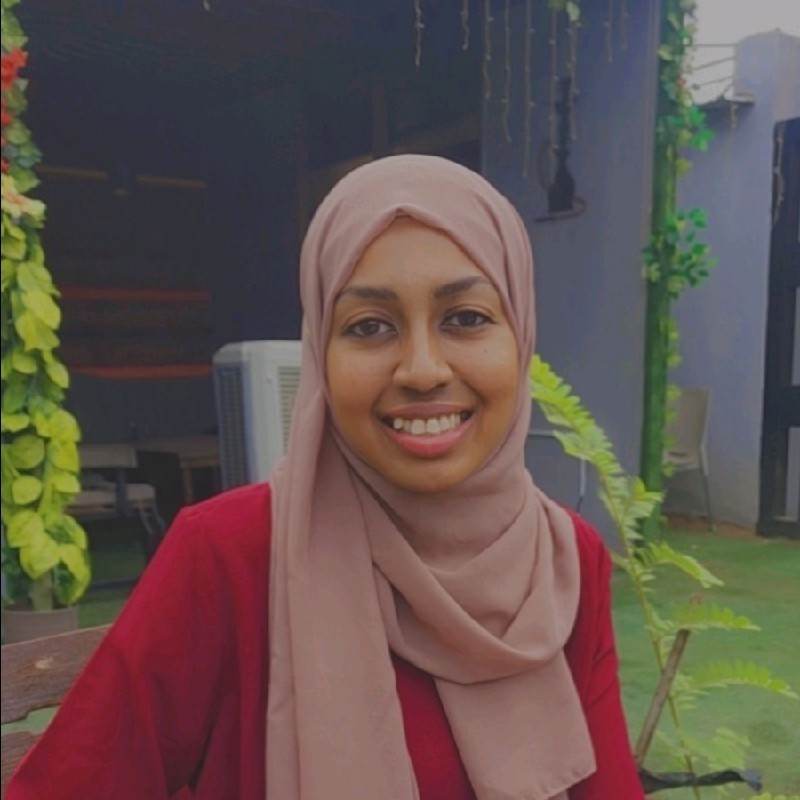 Contact
Skills
Accessible Design | Adobe illustrater | Adobe lnDesign | Adobe XD | Design Thinking | Figma | Persona Development | Prototyping | Storytelling | UI/UX Design | User Research | User Testing | Visual Design | Wireframing |
Language
Resume/Certificates
Summary
A passionate and focused junior UI/UX designer who creates applications and websites from the research stages of gathering and understanding a target users' requirements to low-fidelity and high-fidelity prototyping in order to create user-centric solutions. I am looking for a position where I can contribute value using my extensive design skills while also promoting self-development and assisting me in achieving both organizational and personal goals.
Education
MS: Computer Architecture and Networking, from the University of Khartoum.
BS: Electrical and Electronic Engineering (Communication Engineering), from the University of Khartoum
Work Experience
UI/UX Design Projects:
Tasty Food is a mobile application for a large fast food chain restaurant that provides tasty food to anyone who requires it without prior reservations or long lines. It offers a variety of meal options as well as a delivery service.
Africa Agility Bootcamp team project. I worked on developing a mobile application (Travel Buddy) that provides travel suggestions and allows users to book a flight, a hotel, a travel guide, and transportation. It provides a variety of options based on your budget and rating. Travel Buddy focuses on providing the best user experience possible by offering customer service 24/7, and a community where you can share your travel plans and photos with other travelers.
Africa Agility Hackathon project, I was a UI/Ux team leader working with a team with a team of web developers, product managers, branding and marketing, scrum mastery, and data science to provide a solution for SDG13 climate action, which is a website (Clear Climate) that educates, sensitizes, and empowers individuals, communities, and organizations to create a safer climate. For project management, we used the agile methodology and the Trello tool.
Over 6 years in the ICT department working on:
Installation, configuring, monitoring and troubleshooting of different software, hardware and transmission links.
Respond to customer inquiries via phone, email, and in person, providing technical support and troubleshooting for PCs, telephones and peripherals such as printer, scanner, fax, access point, software, and systems.
Prepared reports, project closure reports, SRs (service requisition) and MRs (material requisition)
Presented knowledge sessions and training for users and ICT staff