1 Oct 2020, Conference Hall, KHARTOUM
Youth Conference

مؤتمر الشباب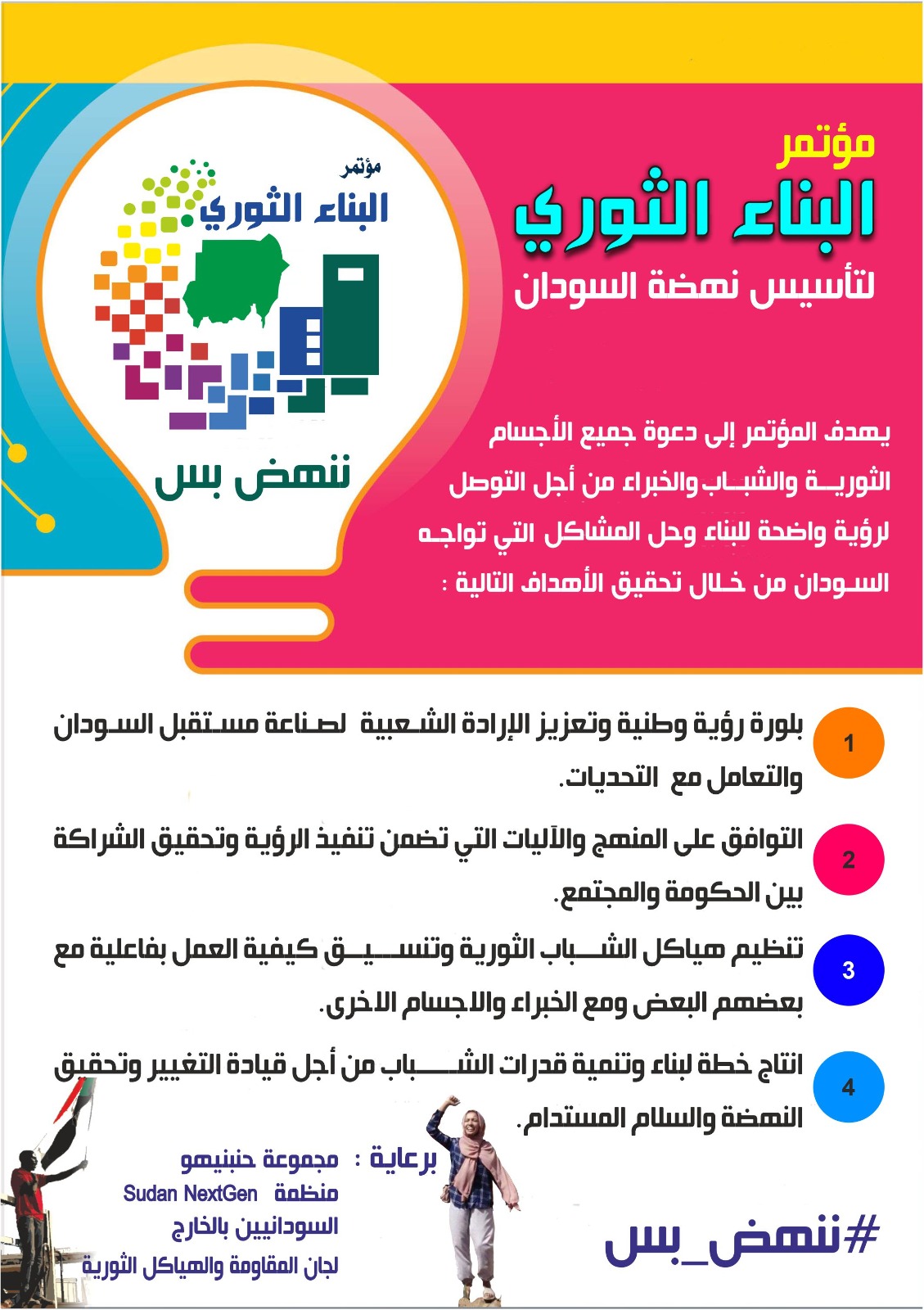 About Conference
The Youth Conference aims to bring together young people and experts in order to reach a clear and strong vision and to plan steps to move forward to solve the problems facing Sudan for years by achieving the following goals:
Creating a unified national vision and define short-term priorities based on the youth's perspective.
Organizing revolutionary youth structures and coordinating how to work effectively with each other, with experts, and with other entities.
Developing administrative and executive training modules for youth, government, and stakeholders.
Agreeing on initiatives that can be successfully implemented immediately and determining how the government can contribute to executing these initiatives.
Examples of Small & Large Scale Projects
Currently Being Studied
Who Is Attending
Lorem ipsum dolor sit amet, consectetur adipiscing elit
Our Schedule
Lorem ipsum dolor sit amet, consectetur adipiscing elit

National Vision & Priorities
John Smith
john@Colorlib.com
08:00 am – 10:00 AM
59 Breanne Canyon Suite, USA

Strategy & Implementation for the Vision
John Smith
john@Colorlib.com
08:00 am – 10:00 AM
59 Breanne Canyon Suite, USA

Organizing Youth Groups
John Smith
john@Colorlib.com
08:00 am – 10:00 AM
59 Breanne Canyon Suite, USA

Skill Development
John Smith
john@Colorlib.com
08:00 am – 10:00 AM
59 Breanne Canyon Suite, USA

Immediate Projects
John Smith
john@Colorlib.com
08:00 am – 10:00 AM
59 Breanne Canyon Suite, USA

V7 Digital Photo Printing
John Smith
john@Colorlib.com
08:00 am – 10:00 AM
59 Breanne Canyon Suite, USA

Dealing with Difficult People
John Smith
john@Colorlib.com
08:00 am – 10:00 AM
59 Breanne Canyon Suite, USA

Beyond The Naked Eye
John Smith
john@Colorlib.com
08:00 am – 10:00 AM
59 Breanne Canyon Suite, USA

Influencing The Influencer
John Smith
john@Colorlib.com
08:00 am – 10:00 AM
59 Breanne Canyon Suite, USA

Beyond The Naked Eye
John Smith
john@Colorlib.com
08:00 am – 10:00 AM
59 Breanne Canyon Suite, USA

Dealing with Difficult People
John Smith
john@Colorlib.com
08:00 am – 10:00 AM
59 Breanne Canyon Suite, USA

V7 Digital Photo Printing
John Smith
john@Colorlib.com
08:00 am – 10:00 AM
59 Breanne Canyon Suite, USA

Influencing The Influencer
John Smith
john@Colorlib.com
08:00 am – 10:00 AM
59 Breanne Canyon Suite, USA

Influencing The Influencer
John Smith
john@Colorlib.com
08:00 am – 10:00 AM
59 Breanne Canyon Suite, USA

Beyond The Naked Eye
John Smith
john@Colorlib.com
08:00 am – 10:00 AM
59 Breanne Canyon Suite, USA

Dealing with Difficult People
John Smith
john@Colorlib.com
08:00 am – 10:00 AM
59 Breanne Canyon Suite, USA