Arwa Hassan Albeely
Web Development (Front End), and Starting My Own Business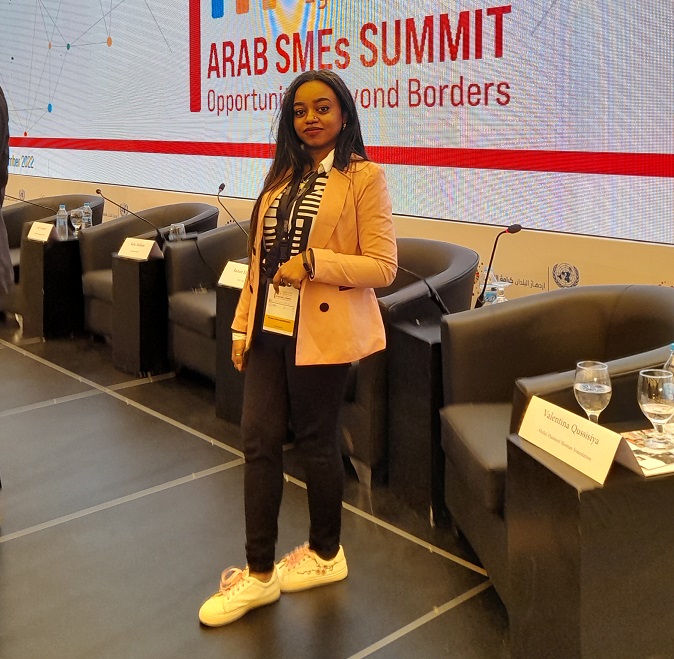 Contact
Skills
CSS | Frontend | HTML | Javascript |
Language
Resume/Certificates
Summary
I'm look for networks, proffessional internship upportunites to excel the skills I learnt in the Front-End Development Track and to grow my tech startup using those skills, meet up with possible investors to fund my business and give it what it needs to be boosted and to scale the business to Africa and the MENA region.
Education
Masters/MBA Degree Holder
Work Experience
"Name: Arwa Hassan Albeely
Title: founder & CEO of Sayed Nafsak Freelancing Platform.
Uofk faculty of engineering 2014 graduate. With six years experience in; quality management, warranty, and technical engineering.
I joined the Uofk MBA program on the 2021 and I'm expected to get my degree by 2023
I've always been concerned with the employment issues in Sudan, specially with women. I aspired to make a change; help empower women, and help youth gain more income, and improve their lives' conditions.
With all that in mind; I started my entrepreneurship journey in 2021 with my first startup Sayed Nafsak; a freelancing platform, that connects freelancers and clients directly; organizes service purchasing and deals.
The name is an Arabic phrase; translates to ""be the boss of yourself"", started under the Orange corners program in Sudan.
Our vision is to provide opportunities for skilled Sudanese people; with more flexibility and a high-quality pay. On the other side of the deal -helping businesses owners find the talent they're searching for in various fields all in one place.
In 2022, I graduated from OC program, adding more knowledge and tools to my business experience. Which are now ready to be used on my business.
I joined UNDP-4YFN Women Innovators Programme as a mentee to gain more knowledge from the great international mentors with great experiences in entrepreneurship, leveling up my journey as an entrepreneur and a founder of Sayed Nafsak.
In 2022 I joined Africa Agility virtual bootcamp to learn coding to be more involved with the development of my platform and to gain experience in the field of Tech.
I'm currently looking for a professional training/ internship in the field of Front-End Development and to join an international team of professionals to gain the experience and implement the knowledge in my business."